As most of us know good posture is important mainly because it breeds confidence, alleviate neck and back pain among other payoffs. The good thing is that changing your posture is a one time thing. As psychology states, many bad habits, including slouching, can be changed in just a couple of weeks.
Posture correctors help you pay attention to good posture. There are many different types of posture correctors but we will cover the 4 main ones. I will cover 4 types of posture correctors, who they are made for, a short review, pros and cons and lastly answer the FAQs.
1. Upper Back Posture Corrector
Who Is It For?
It is easily worn by men and women under or over clothing. It is for anyone who wants a firm guidance with their posture but does not mind fiddling with the straps for a couple of days.
This posture brace is a great choice if you are looking for a support brace that will pull back your shoulders while aligning and supporting your clavicle bone.
Features
Weight:

 0.08kg (0.18lb.) This shows it's light hence can be worn for a long time. The recommended time is 30-40 minutes per day.

Style:

It can be worn over or under clothing. Therefore you could easily get away with wearing it during winter without anyone noticing.

Material:

It is made of Neoprene.

Size:

 Medium and Large with each size adjustable.

Other Features:

Heat dissipation and permeability to improve the comfort of wearing. They also include removable armpit pads for comfort.
What Other People Say?
"Product as described. Adjustable and comfortable. One tip: when you tighten the belts, keep your back straight in perfect posture so the corrector will keep it in that position. Overall it works great, looks just like on the pictures and it's very easy to use." - Ann Lee
"Got the product about a week earlier than expected. The outside packet was neat and tightly packed. The inside packet was a reusable ziplock bag. So can keep the posture corrector free of dust when needed. The product was identical to the image." - David P
Pros Of Upper Posture Correctors
Easy to put on and adjust.
Comfortable
Can be worn under or over clothing
Relieves shoulder and neck pain
Latex-free straps 
Cons
Has a strange smell which eventually pass after washing.
Some users experienced discomfort under the arms. This is well solved with the underarms pads.
You can order one here >> Upper Back Posture Corrector
2. Full Back Support Brace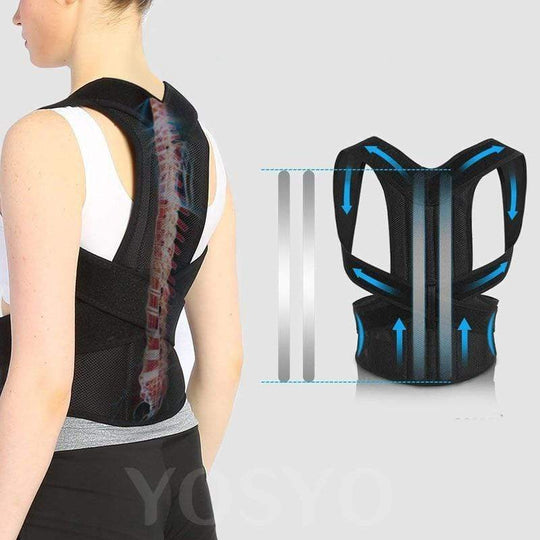 Who Is It For?
This is best recommended for people with previous back injuries or pain. It is designed for the right posture formation for kids and adults. It is a also a good solution for problems such as kyphosis. 
It is advisable you wear it for 1-2 hours, 3-4 times a week for maximum effectiveness.
Features
Weight:

0.25kg (0.55lb.)

Style:

Can be worn under clothing. You can also wear over light clothing.

Size:

Five sizes available. S, M, L, XL and XXL. Make sure to refer to the size chart while choosing a size.

Material:

Made up of cotton and neoprene which is breathable.
What Other People Say
"Open the package, pungent sell but ends after washing. Height 156 size M waist circumference not prompt because postpartum, well, basically sit well. Lanyards регклировала on right up and then will be trimmed. Is just like that you need to keep your back. " - Max William, UK
"Thank you told the size took XL weight 90 height 190. Delivery about 3 weeks. Neoprene material, all adjustable shape. Magnets along the ridge is superfluous, think they whipped. Purchase approved" - Steve, Canada.
Pros Of Full Back Support Brace
Full spine and lumbar support
Alleviates back pain
Easy to use and adjust.
Durable
Cons
Heavy but will get used to after a while.
Many complain about sizing. It is therefore advisable to use the size chart carefully when buying one.
You can order one here >> Full Back Support Brace
3. Upright GO Posture Trainer
This is a small strapless device that sits in the mid of your back. You set up to your specific body dimensions and then it calculates your ideal posture. Whenever you are slouching, it gives you a gentle vibration reminder.
Upright GO Posture Trainer has different specifications and instructions for when are at home or when at work. Not impressive for those who don't like instructions but that is what makes it accurate.
The Upright GO Posture Trainer comes with a free app to calibrate your dimensions. A free core program is also included in the app.
Who is it for
This was designed for those that are embarrassed to wear an over the clothes posture brace at work. Upright GO is a great substitute. It is perfect for anyone who is prefers self-training to health and fitness.
Pros of Upright GO Posture Trainer
Strapless hence not easily noticeable.
Comes with a free app to calibrate your dimensions
Free core program included in the app.
It is accurate.
Cons
The adhesives may not stick very well especially for those who are hairy at their backs. You may need to shave a little patch for the device.
8-hours of battery. Will not last all day, hence requires charging.
4. Posture Corrector Bra
This was designed specifically for women who want a firm support for their bra line and lumbar making them stand upright, look taller and more confident. It also helps improve hunchback as it align your backbone to your natural position.
It also relieves pains in the spine, neck and back, especially the hunchback. It's the best gift for your wife or girlfriend.
It is comfortable to wear on chest. It not only beautifies and pushes up your chest as well as prevents it from drooping.
Features
Material: Made of 90% Polyester and 10% Polyurethane which are breathable.
Size: Five sizes available S, M, L, XL, XXL
Adjustable 3-row hooks: The intimate 3-row hooks on the chest can adjust vest very well to ensure stability and comfort.

Style:

Worn under clothing.
Order one here >> Posture Corrector Bra
Frequently Asked Questions about Posture Correctors
1.Do Posture Correctors Work?
This question is well answered in a separate post. Check it out here "Do Posture Braces Work?"
2. Are Posture Correctors Any Good?
Research out there suggests that braces can definitely help to improve posture and reduce slouching. However, it's best to think of these devices as training assistants for a better posture than perceiving them as miracle workers. It's all about training your muscles to remember to be in an posture, eventually walking without the brace or device.
3. How Long Should I Wear A Posture Corrector?
It is advisable that wear the posture brace daily for a few minutes or hours.I would suggest using your posture corrector until you feel comfortable in an upright posture without it. This may take long, but it will be worth it!
4. Will this pinch my arms/shoulders?
No, unless you are wearing the posture corrector incorrectly. If you experience pinching either you are wearing it too tight or you are slouching your shoulders into the posture corrector too much. Loosen the straps to your comfort level and pull those shoulders back!  That's the beauty of Posture Corrector, if you are slouching, it will become uncomfortable, forcing you to keep your shoulders back to regain comfort. It is the perfect way to strengthen your muscles to develop long term healthy posture.
5. Will this weaken my back muscles?
No it will not! Our posture corrector is not made out of super stiff material that will keep your posture locked in place like a cement vest, nor is that even healthy. Our posture corrector is an aid that helps your muscles maintain the correct posture, acting as a constant reminder to your and your muscles that keep your posture straight. Your muscles will develop over time to maintain it
6. Which Posture Corrector Is Best?
It depends on your specific needs. For instance, for office-use, you might want something strapless or that you can wear under your clothes. 
7. How To Use A Posture Corrector?
Using a posture corrector is pretty simple. You don't need help putting them on. The main thing is to adjust your posture corrector to fit your specific body size. That may be the hardest part. Wear it regularly and let your muscles adapt to the changes.
Other Recent Posts;